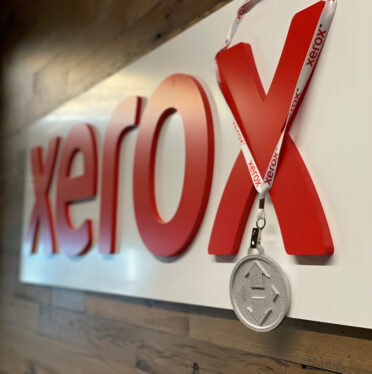 Thanks to our friends at Xerox for all of their contributions to helping make this year's return to our Flag Football & Cornhole Tournament Fundraiser a success. In addition to supporting the day by providing countless volunteers, they also provided a very unique and special touch to the awards we were able to provide to the winners of our Strongest Arm and 40 Yard Dash Competitions as well as the winners of the Cornhole Tournament. The team from Xerox worked collaboratively with Executive Director, Liz McLean to design a medal that captured the spirit of the Foundation and the event. The "H" diamond logo can be seen across all of the Holt Brothers, Inc. brands.
Xerox's 3D Printing business, Elem Additive is tackling supply chain resiliency with metal 3D printing hardware and software solutions. Their Additive Manufacturing Center of Excellence is located right here in our back yard in Cary, North Carolina where they run multiple production shifts of parts and products. The Holt Brothers medals were designed by the Elem Additive expert engineering team and printed in Cary, NC. Each medal is built with over 350,000 tiny metal droplets and took approximately 2 hours to complete.
*About the technology: The ElemX Metal 3D Printer is powered by Liquid Metal technology that melts aluminum and deposits it onto a build platform one layer a time.