Board Members
Ryan Switzer – Division Vice President, Toll Brothers
Suzanne Epps – Marketing Manager, Optima Engineering 
Reggie Joe – Financial Advisor, Northwestern Mutual
Lisa Schiller – Chief Communications & Marketing Officer, UNC Healthcare
Dion Bennett – Business Development Officer, First Bank
Drew Caffrey – Owner/Operator, Chick-fil-a Waverly Place
Mike Wolgin– Owner/Realtor, Mike Wolgin Real Estate
Stacie Phillips– Senior Project Manager, Kimley-Horn and Associates
Torry Holt – President, Holt Brothers Foundation, Vice President, Holt Brothers Construction
Advisory Board Members
Graham Ashe – Sales Representative, The Cason Group
Leigh Bleecker – Divisional Chief Financial Officer, Duke Raleigh
Amy Cox – Senior Vice President, Deep South Entertainment
Mary Heath – Chief Marketing Officer, McAdams
Roland Lewis – Owner, Zenith Automotive Solutions LLC
Seth Palmer – Director or Strategic Communications, NP Strategy
Virginia Parker – Senior Vice President/Triangle Market Manager

, Bank of America

Katherine Thomas – Vice President of Business Development, Alfred Williams & Co.
Smedes York – Chairman of the Board, York Properties
Marlee Helbig – Director, Marketing,  Longfellow Real Estate Partners
Terrence Holt – President, Holt Brothers Construction
From the Chair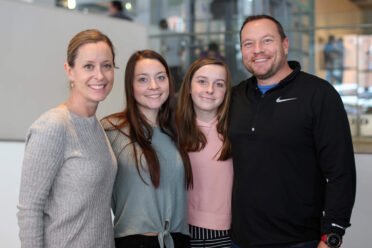 Ryan Switzer, Division Vice President, Toll Brothers
"The Holt Brothers Foundation fills a niche that no one else does. Terrence and Torry focus on the kids who are impacted by a parent's cancer. And they come at it with such honesty, integrity and knowledge. I know this because they helped my family when I was fighting cancer. It's something I'll never forget. Both of my kids attended KidsCan! and Camp Kesem. 
I know my colleagues on our boards share their passion for making a difference in the life of a child through education and inspiration. The Holt Brothers serve as mentors to these young people and are great examples of the philosophy behind the foundation: Kids can achieve and be successful, despite their parent's disease.
Family-centered care should be the new norm — not the exception. During the next three years, we'll be working toward that goal.